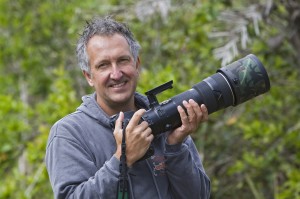 Celebrity, Mark Carwardine is coming to WWT Martin Mere on Saturday 12 & Sunday 13 May to host an evening talk and creative photography workshops.
Best known for co-presenting the TV series 'Last Chance to See' with Stephen Fry, Mark Carwardine is an award-winning writer, TV and radio presenter, zoologist, wildlife photographer and outspoken conservationist.
Evening Talk – Ultimate Wildlife Experiences
Saturday 12 May at 7pm
Mark will talk about his favourite places in the world to watch wildlife. It will be a personal selection of the wildlife hotspots that have made the greatest impact on him over the years.
He'll wax lyrical about everything from jaguar watching in the Pantanal and bat watching in Zambia to searching for spirit bears in the Great Bear Rainforest to whale watching in his favourite place in the world.  His adventures over the past 30 years are extraordinary; with his with self-deprecating humour and well-developed sense of the ridiculous, this will be a highly entertaining evening.
The evening talk costs £15 per person and you must book in advance by calling 01704 895181.
You will be able to buy copies of Mark's new book Ultimate Wildlife Experiences and have it signed by him.
Creative Wildlife Photography Workshops
One day workshops on Saturday 12 May & Sunday 13 May
This will be a great day out and a fabulous opportunity to learn loads about wildlife photography in the company of like-minded people.
Mark was Chairman of the Judging Panel of the prestigious Veolia Environnement Wildlife Photographer of the Year competition for seven years (2005-2011) and is an accomplished and well-published photographer in his own right.
The day will include an illustrated talk about some of Mark's most recent photography projects and trips, a lively, entertaining and informative portfolio review, discussions and lectures about everything from camera settings to creating better pictures, and a practical field session to put all the new tips and hints into practice.
The workshops cost £140 (lunch included) and there are just 11 places per day making this an exclusive event. To book, please call 01704 895181.
WWT Martin Mere is open every day from 9.30am to 5.30pm and parking is free of charge. Situated off the A59, it is signposted from the M61, M58 and M6.  The Centre is also accessible via the Southportto Manchesterand the Liverpoolto Prestonline by train from Burscough Rail Stations.  Visit the web site http://www.wwt.org.uk/martinmere/ to find out what's on all year round at Martin Mere and the other eight centres.