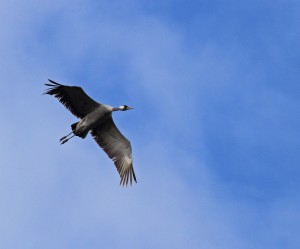 For only the third time in 35 years, WWT Martin Mere has welcomed a wild crane to the reserve. The last time a crane was seen at Martin Mere was in 1999 and previously to that was in the 70s.
The adult crane has been on the reserve for 2 days now and is showing well from the Ron Barker Hide.
Centre Manager, Andy Wooldridge, said: "It is fantastic to see a wild crane at Martin Mere and it has attracted the attention of a large number of adults who would never have seen a crane in the wild.  Small numbers of cranes can often be seen in Norfolk, Suffolk, Somerset and on Humberside but it is quite unusual to see them in the North West."
Cranes have been around for nearly 40 million years. There are 15 species (types) of cranes across the world. Cranes became extinct in the UK around 400 years ago as they were hunted for food and the wetlands they lived in were drained and used for farming.
WWT have been actively involved in the Great Crane Project, aiming to re-establish a sustainable population of the iconic Eurasian Crane to the Somerset Levels and Moors, a traditional stronghold for the species. This will help to secure its future as a British breeding species and will engage the public, landowners and other interested parties with cranes and wider wetland conservation issues.
Phase 1 of the project will involve the release of 100 juvenile Eurasian Cranes (20 per year for five years) between 2010 and 2014.
WWT Martin Mere is open every day from 9.30am to 5.30pm and parking is free of charge. Situated off the A59, it is signposted from the M61, M58 and M6.  The Centre is also accessible via theSouthporttoManchesterand theLiverpooltoPrestonline by train from Burscough Rail Stations.  Visit the web site http://www.wwt.org.uk/martinmere to find out what's on all year round at Martin Mere and the other eight centres.